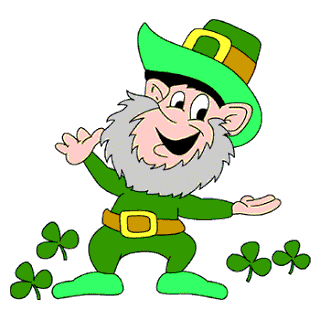 St. Augustine, Florida Celtic St. Patrick's Day Parade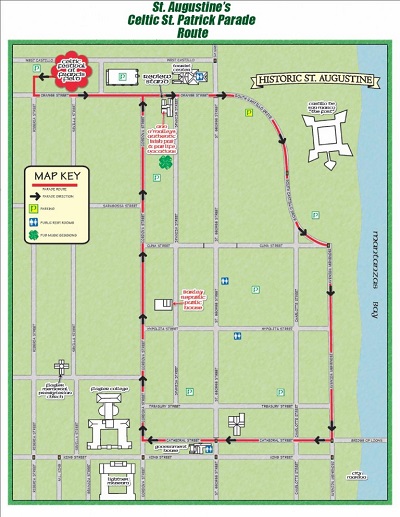 THE world's first St Patrick's Day Parade was probably held in 1601 in St. Augustine, in Florida. 2020 is the 420th anniversary of the First St. Patrick Day celebration in America -1600 also the first recorded St. Patrick Parade in the WORLD, right here in 1601 ! It is the only St. Patrick's Day Parade in Northeast Florida!
When:
Saturday, March 11, 2023. See the St. Augustine St. Patrick's Day parade's official website for current info. starting at 10 am
Where:
The Parade will begin at Francis Field and follows the route on the map at right.
View a larger version of the St. Augustine Celtic St. Patrick's Day Parade Route Map here.
More about the parade:
The parade festival will have Celtic musicians, Highland Games, Clans & Celtic Vendors, Celtic artists, Celtic food and local offerings.

Attending the parade as a spectator
What to bring
If it is a cold day, bring a warm hat, warm gloves, and warm shoes. For a sunny day, you'll want to bring sunglasses, suntan lotion, and a hat. The parade goes on rain, shine or snow. And of course, it is traditional to be dressed in GREEN (or orange or white – colors of the Irish flag)!
Transportation and Parking
Mass transit is a great way to get in and out to see the parade. The Main Festival Events are held at Francis Field - 29 W Castillo Dr. St. Augustine, Florida 32084
There is FREE FESTIVAL SHUTTLE PARKING on SATURDAY ONLY 8:00 AM-11:00 PM.
The City of St. Augustine will provide FREE PARKING SHUTTLE SERVICE for the CELTIC FESTIVAL on SATURDAY ONLY from 8:00 AM – 11:00 PM.
Shuttle PICK UP every 20 minutes from two parking lots north of the City:
Johns County Health Department at 200 San Sebastian View
Parking Lot at the northern end of San Marco Ave. at 301 San Marco Ave.
The shuttle will bring you to the Visitor Information Center and Visitor Parking Facility at 10 S. Castillo Drive, just across the street from the Celtic Festival.
More information
If you want more information, such as to participate in the parade or become a sponsor,
St. Augustine St. Patrick's Day parade's official website
Phone: Parade Director, 904-347-6982.
Email: parade@CelticStAugustine.com.
Find the parade's Facebook page here.